Fire Elemental
Talk

0
467pages on
this wiki
Fire Elementals embody the destructive and creative force of burning. They are fast-moving creatures that delight in setting things ablaze with their fiery touch. As one would theorize, a fire elemental cannot enter water or a vacuum, as their flaming bodies require oxygen to continue existing.
Life: 1
Move: 5
Range: 1
Attack: 4
Defense: 4
Point Value: 35
Abilities
Edit
Lava Resistant:
A Fire Elemental never rolls for molten lava damage or lava field damage, and it does not have to stop on molten lava spaces.
Searing Intensity:
After moving and before attacking, you must roll the 20-sided die once for each figure adjacent to at least one Fire Elemental you control. If you roll a 14 or higher, that figure receives 1 wound. Figures with the Lava Resistant special power are not affected by Searing Intensity.
Negative Element:
A Fire Elemental can never roll defense dice while it is on a water space.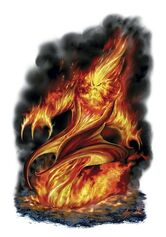 Fire Elementals can be devastating against figures with 1 life or high defense, such as the Deathwalkers or squad figures, because of their Searing Intensity. If you have 3 or more Fire Elementals paired with Kurrok the Elementalist, the effect can be even more devastating.
Due to Negative element, Fire Elementals are sitting ducks on water spaces. If you place your long-range figures such as Deathwalker 9000 across a stretch of water, it is doubtful your opponent will move their Elemental towards you. But if they do move on the water, you can easily pick them off.