Water Elementals are patient creatures made of living water. Below the surface of the water, these elementals look like nothing more than water themselves. Only when they are enraged does their appearance manifest as a vicious whirlpool or living tidal wave, or most notably when they rise from the water to stride arcoss the land. They are created by powerful wizards to work their will on the world and their enemies
.
Interestingly, even though the Fire Elemental is weaker on water spaces, the Water Elemental inexplicably is not weaker on lava field spaces.
Stats
Life: 1
Move: 4
Range: 5
Attack: 3
Defense: 4
Point Value: 30
Abilities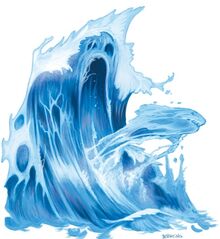 Water Mastery:
While a Water Elemental is on a water space, add 1 to its Attack and Defense.
Water Tunnel:
If a Water Elemental ends its normal movement on a water space, you may immediately place it on any empty same-level water space that is within 5 spaces. If a Water Elemental is engaged when it starts its Water Tunnel, it will not take any leaving engagement attacks.
(Note: Both of the above also apply for swamp water.)
Synergy
Being an medium elemental, Water Elementals may benefit from Kurrok the Elementalist's Summon Elemental ability.
Being a medium elemental, the Water Elemental may benefit from Kurrok the Elementalist's Master of the Elements ability.
Strategy
The Water Elemental is a must have on water maps. Four (4) attack and five (5) defence for only thirty (30) points, plus extra move on water with disengage. Even on non-water maps this figure is a steal if you can get it into a little water. For thirty (30) points other figures might be more useful, but depending on the map, this figure might be slightly more useful.  Pair this figure and possibly more Elementals with Kurrok for a strategy similar to the Marro Hive and the common Marro squads (from the original game). Pile Order Markers on Kurrok, take turns with whatever elementals you wish, summoning more of them when your opponent kills some of them off.
Ad blocker interference detected!
Wikia is a free-to-use site that makes money from advertising. We have a modified experience for viewers using ad blockers

Wikia is not accessible if you've made further modifications. Remove the custom ad blocker rule(s) and the page will load as expected.